Marseille's "Champions Project" has become something of a punchline in Ligue 1 since Frank McCourt's takeover last year, with Rudi García's players struggling to find cohesion despite having a squad that looks as if it should be competitive. The team is performing better this season – they were undefeated in 12 games and level on points with Monaco and Lyon before the weekend – but their 2-0 defeat at Lyon on Sunday night showed there is still a long road ahead of them. The game also highlighted the contrasting trajectories of the two men who were ordained to lead them back to the top: Florian Thauvin and Dimitri Payet.
To understand Thauvin's story we have to go back to 2013, when Lille paid Bastia €3.5m for the teenage winger and immediately loaned him back to the Corsican club. Thauvin was superb that season, scoring 10 goals in 31 league games and winning the Ligue 1 Young Player of the Year award. Marseille were reportedly interested in signing him but Lille president Michel Seydoux said he was "untransferable".
In a bid to force a move, the 19-year-old refused to train, much to the ire of his new, and very brief, employers. "If he does not want to play football anymore, we will not force him – we will wait, but since he is not working, he will not be paid," said Lille deputy director General Frédéric Paquet. In the end, the clubs agreed a price of €15m and Thauvin, who never played a game for Lille, was on his way to Marseille.
Thauvin has long been associated with a haughty self-satisfied attitude that borders on smugness and petulance – particularly in England, where he incurred Alan Shearer's wrath on Match of the Day for putting in weak, anonymous performances for Newcastle after having arrived at St James' Park' in a tuxedo. Thauvin's poor form in the Premier League took him back to Ligue 1 last season for a loan move to Marseille, where he has transformed himself into one of the league's best forwards.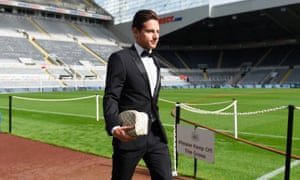 His return to Marseille at the start of last season did not start well – he was sent off 10 minutes into his second debut – but he has slowly matured over the last 18 months. His return of 15 goals and nine assists last season is comfortably the best of his career and his graceful ability to glide past defenders, ghost in from his flank and shoot as well as pick out passes has made him central to everything Marseille do well.
He has lost the cocky persona but maintained the swagger that makes him such a glorious, and now effective, player. "When you are a football player, you must do your work and remain discreet, be exemplary." Thauvin said in May, "Today I try to be exemplary to the maximum, to behave as a great professional." Shearer would barely recognise him. Thauvin now admits his Newcastle move came "too early" and explains: "At 22, you leave your country, you discover a new culture, a new language, a new league, the food isn't the same. It's complicated, but they're things that help you grow up."
The same cannot be said for Dimitri Payet. He threw his own tantrum to return "home" to Marseille but the form that made him the poster boy for the Euro 2016 hosts has remained beyond his reach. Despite his installation as captain and his obvious quality, his influence is often feeble. Buying Payet was meant to be a statement and a turning point for the club but it has proved to be neither so far. The credit for Marseille's recent resurgence belongs to Thauvin, Luiz Gustavo and Adil Rami, rather than Payet.
Thauvin has replaced his arrogance with maturity and consistency and has won talisman status at Marseille, a place in Didier Deschamps' France squad and reported links with Atlético Madrid and Bayern Munich. No longer is he the troublemaker in the tux. On the other hand, now into his 30s, Payet may be little more than Thauvin's sidepiece as his career, and with it the Champions Project's renewed promise, threatens to fizzle out.
Ligue 1 talking points
• Stéphane Ruffier was furious that the officials did not rule out Fabinho's goal for offside in Saint-Etienne's 4-0 defeat at Monaco. The goalkeeper was correct about the decision but the extent of his reaction – kicking the ball away (and perhaps at the assistant referee) before remonstrating with him – allowed the officials to get a different call correct: the decision to send him off. Did Ruffier's frustration have more to do with his personal situation than the goal? He has been one of France's best keepers for nearly a decade, but this was his first red card, despite his fiery personality. After a summer in which Saint-Étienne looked ready to finally progress with heavy investment, things have gone woefully wrong, with the managerial duo of Julien Sablé and Jean-Louis Gasset yet to record a win. He is not cup-tied and may wonder if he could do better than a club seemingly lacking ambition and focus.
• Ruffier may be one of France's best keepers but Anthony Lopes looks increasingly like Ligue 1's most impressive keeper. The Portuguese academy graduate continues to improve, even at 27. His six saves for Lyon against Marseille helped the club send off long-time goalkeeping coach Joël Bats in style. Lopes' progression and the career of Hugo Lloris are both impressive testaments to the abilities of Bats, who has remained a constant on the bench through Lyon's illustrious run of titles as well as through leaner times in more recent years. Set to join former boss Rémi Garde in Montréal in January, Bats' record speaks for itself. Lyon will be poorer for his departure.
• Stéphane Darbion gave Troyes a late win against Amiens, a rewarding result after last week's disappointment against Monaco, but the real story of the match between the two promoted sides was an apparent goal being ruled out. The referee's wristband had sounded on the half-hour mark as in-form Troyes striker Hyun-Jun Suk seemed to head the hosts in front from a corner. However, replays showed the ball hadn't crossed the line. Eventually the officials made the right call, but it made for a contentious few moments. The league's executive director, Didier Quillot, didn't mince words in expressing his frustration: "Sporting integrity is safe after the official took the right decision, but what happened is very regrettable. The technology must be in the service of the officials. It's an important aid, but only on the condition of it being infallible." The German company who service the system, GoalControl, have reportedly been called in to speak with the league and could be replaced, giving further ammunition to those who see technology as hindering the game.
Ligue 1 results
St Étienne 0-4 Monaco, Rennes 1-4 Paris Saint-Germain, Nantes 1-0 Angers, Nice 1-0 Bordeaux, Strasbourg 2-1 Toulouse, Dijon 3-0 Lille, Caen 0-0 Guingamp, Montpellier 1-3 Metz, Troyes 1-0 Amiens, Lyon 2-0 Marseille.
Ligue 1 table
Thanks for your visiting on this page Florian Thauvin has lost his tux and left Dimitri Payet in the shade at Marseille | Football, We hope this post can be a good reference for you and provide useful information for you :-).
This article is sourced from: Here