Samsung Gear Fit 2 Pro review – Samsung didn't miss an opportunity to drop hints about its new fitness tracker during the Galaxy Note 8 launch event, but now that the IFA is literally around the corner, it's permitted itself to flaunt this wearable in all its glory. Designed to be the successor to the Gear Fit 2, the Gear Fit 2 Pro is quite simply an improved and updated Gear Fit 2. However, Samsugn has thrown a few innovations on board, which perhaps explains why Samsung wasn't keen to change the number of the device.
Samsung Gear Fit2 Pro release date and price
The Gear Fit 2 Pro is expected to hit the shelves soon, September 15 to be precise, and will sell for just under $200.
Samsung Gear Fit2 Pro design and build quality
While Samsung is keen to show off its latest gadget, it hasn't made any profound changes compared to last year's model. The Gear Fit 2 Pro looks really similar to its predecessor. Samsung has maintained the idea of a connected bracelet consisting of a single component whereby the screen and the bracelet are one piece. The Pro version adopts a slightly less regular design with ribs or angles on the bracelet. The bracelet strap is the same as before, with a buckle fastener. The bracelet itself has been slightly revised to better withstand activities in the wet.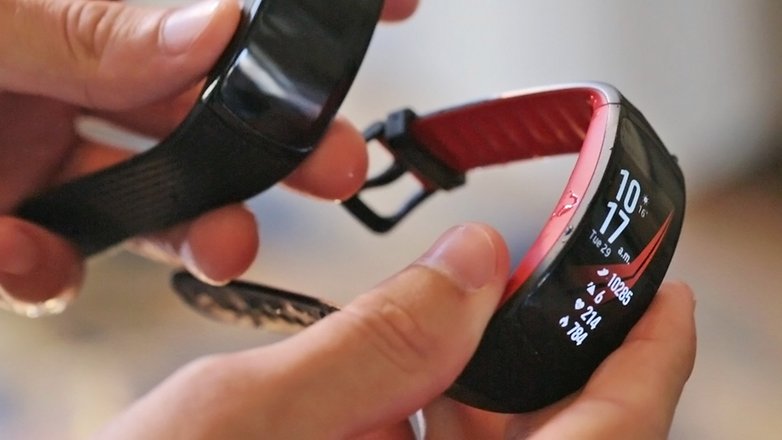 In the middle, you get a nice 1.5″ curved screen. There are two buttons on the right to help you navigate through the menu. As with the Gear Sport, one button allows you to go back, while the other gives you access to the menu or go back to the home screen. On the back of the Gear Fit 2 Pro, there is an optical heart rate sensor, which detects your heart rate every second.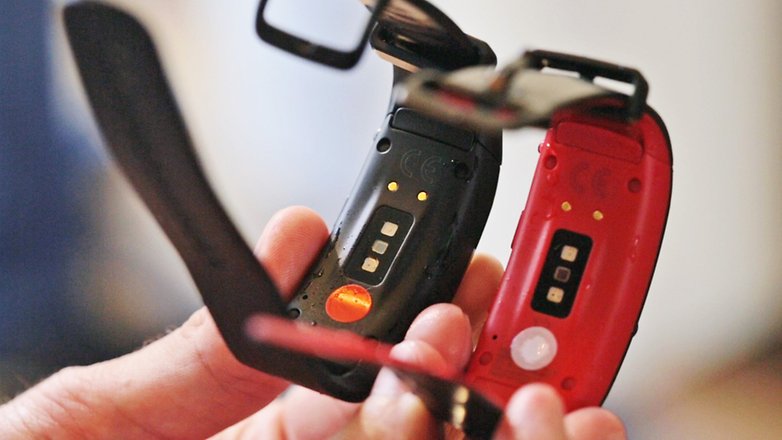 On your wrist, the fitness tracker feels very comfortable. It weighs a meager 30 grams and it is less cumbersome than the Gear Fit 2 Pro, making it a perfect accessory for sports. The build and the finishes are decent and up to the level we've come to expect from this brand.
Samsung Gear Fit2 Pro display
Like the Gear Fit 2, the Gear Fit 2 Pro comes with a 1.5″ curved Super AMOLED screen with a resolution of 216 x 432 pixels (310 pixels per inch). Samsung had the good idea to cover the screen with Gorilla Glass 3 to offer more resistance in case you drop the watch. The screen still offers the same level of comfort with excellent contrast. The readability is excellent, even in full light. The vertical display makes it easy to read and the screen's responsiveness has proven to be flawless.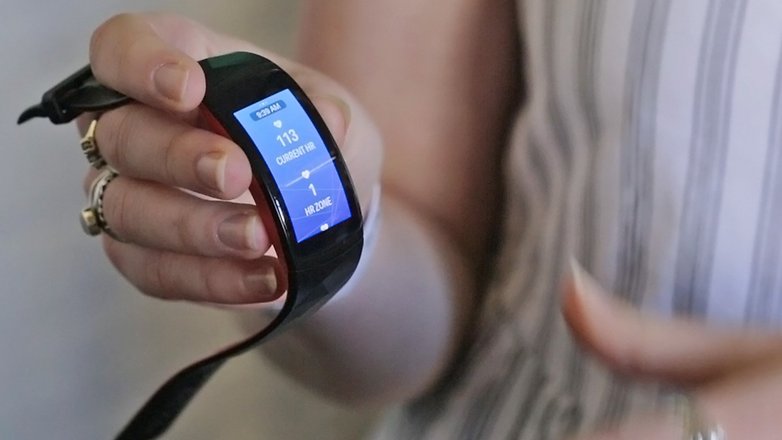 Samsung Gear Fit2 Pro special features
With this Pro model, Samsung has fixed one of the main defects from the first generation of this wearable: although the Gear Fit 2 had the IP68 certification, you couldn't swim with it. Samsung has addressed this issue with the Gear Fit 2 Pro as it now comes with a pressure resistance of 5 ATM. You can now go for it with your Gear Fit 2 Pro strapped to your wrist in the swimming pool. To mark this new feature, Samsung has teamed up with Speedo (a sports equipment manufacturer specializing in swimming) to integrate a Speedo app that's capable of tracking the user's movements while swimming.
In addition to its aquatic capabilities, the Gear Fit 2 Pro has built-in GPS so you can use it during your activities without a smartphone. The connected bracelet is also able to automatically detect when you start a sports session and should also be able to detect the type of activity you are doing. Moreover, thanks to its 4GB of internal memory, you can even listen to music. Samsung also added compatibility with Spotify's offline mode to listen to your favorite playlists while you exercise.
While we're on the topic of partnerships, the Gear Fit 2 Pro also offers the app and services from Under Armor free to its users for 1 year. You can get a whole host of training programs through this app. Watch out though because some badly executed moves might do you more harm than good. Finally, the fitness tracker also allows you to use services like MapMyRun, MyFitnessPal and Endomondo to track your itineraries, calories and share your performances.
Samsung Gear Fit2 Pro software
Like the Gear Sport, the Gear Fit 2 Pro has the new Tizen 3.0 operating system. However, the developments on this bracelet aren't obvious. Despite this, the fluidity of the Gear Fit 2 Pro is still good. It's easy to navigate, the information displays correctly (heart rate, calories burned, exercise in progress, number of steps, number of steps climbed, number of coffees ingested, etc.).
Fortunately, you can also use the bracelet from an iPhone. The Gear Fit 2 Pro is compatible with the iPhone 7, 7 Plus, 6s, 6s Plus, SE, 5 running iOS 9.0 at least and also Galaxy smartphones running Android 4.3 (and higher) and Android smartphones running Android 4.4 at least.
Samsung Gear Fit2 Pro performance
Under the hood of Gear Fit 2 Pro, there is a dual-core 1 GHz processor with 512MB of RAM and 4GB of internal memory. As with the Gear Fit 2, the new version also features an optical heart rate monitor, GPS, gyroscope, barometer and accelerometer to measure all your physical activities.
Like for other fitness trackers, you should take this information with a pinch of salt. These are often estimates.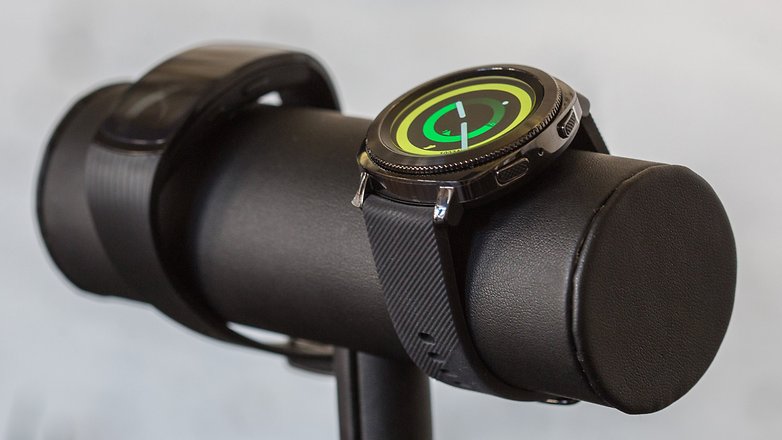 Samsung Gear Fit2 Pro battery
The Gear Fit2 Pro has a battery of 200 mAh, as did its predecessor. If the bracelet behaves the same way as before, you can reasonably expect a 2 day battery life under conditions of intensive use.
Samsung also kept the charging system. The bracelet can be recharged on a small magnetized proprietary terminal.
Early Verdict
With no real innovation, at first glance the Gear Fit 2 Pro seems to be a welcome update of Gear Fit 2. Samsung has corrected the major flaw in its connected bracelet by providing it with aquatic abilities now. Some partnerships have been added to enrich its tracking capabilities and its price hasn't changed. The Gear Fit 2 Pro has everything to seduce people looking for a more luxurious fitness tracker with the same screen and ergonomics.
Thank you for your visit on this page Samsung Gear Fit 2 Pro review: more evolution than revolution – Hardware reviews