We wouldn't be a respectable Android website if we didn't occasionally take a peek at our major competitors, that is to say, Apple. Which iOS 11 features does Android already have, and which ones would we like to see on smartphones with Google's OS? Today, we bring you a brief overview of the iOS 11 features we tested using an iPhone 6s.
Some of the features, especially improvements for the iPad, couldn't be tested as we didn't have access to adequate hardware. But it's clear that Apple has copied some ideas from Google. Obviously, there's nothing wrong with that -the same has happened in the past from Google's side.
The App Store gets a makeover
App discovery is the basic principle for purchasing from the App Store: if Apple wants to encourage iOS users to buy products, it must provide developers with the ability to give exposure to their apps. Thus, not only is the catalog and exploration of apps much more attractive, but each app's description page has been modified to be more descriptive. This includes videos that play automatically and more space for reviews, among other improvements.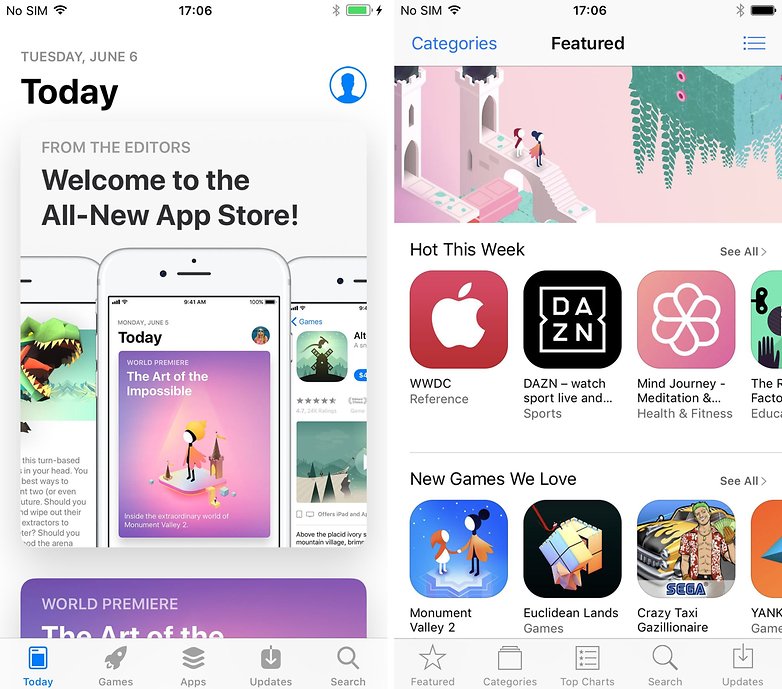 Video games have their own tab at the bottom of the App Store and can be accessed more quickly than before. The Today section replaces Featured and highlights new selections and special offers. In the App Store settings, an advanced option proposes to uninstall apps that are rarely used in order to free up space. This ensures that the data is saved so that the user can access it again and continue to use the app as before it was removed.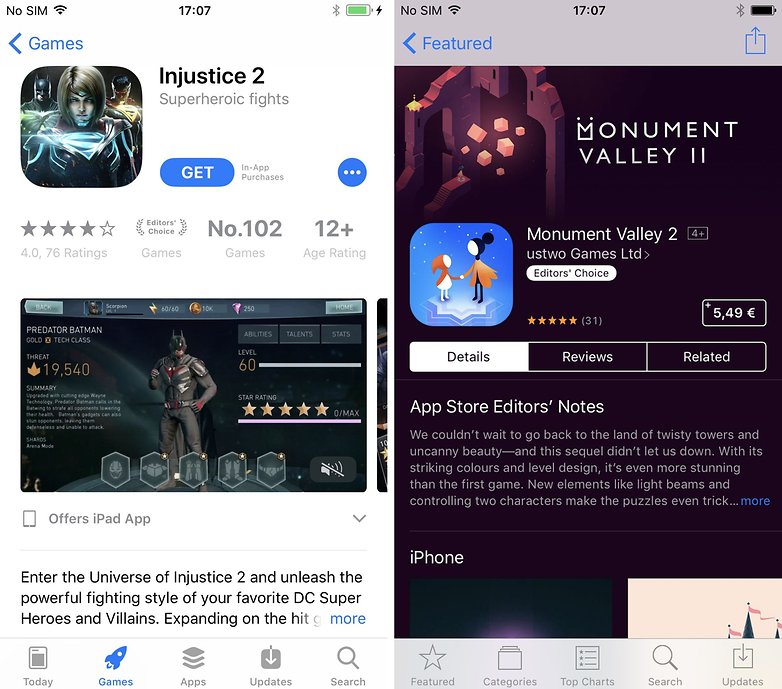 Notifications look very similar to Android
With the Lollipop update, Android notifications allowed the lock screen to be useful. iOS needs to get up to date with Android because since the Nougat update, these type of notifications can be managed directly on Android devices. iOS 11 already displays notifications in chronological order (and not in app order), given that it shows the most recent notifications, and in theory, the most urgent ones first on the lock screen.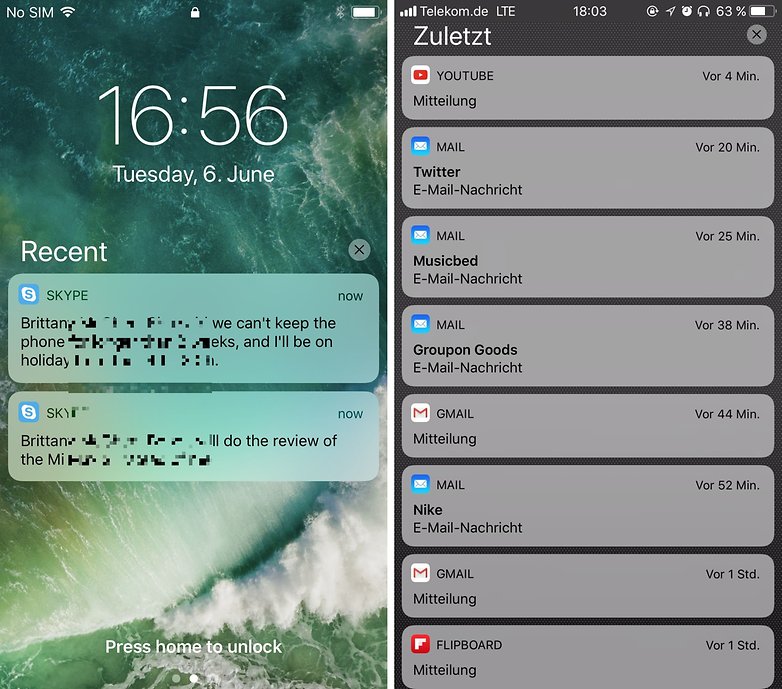 The other notifications must be deleted from the bottom up. On iOS 10, you could see the full list – a feature that quickly became troublesome for users. The notifications setup is done independently, in a rather expansive section of the settings. On iOS 11, you can decide whether an app's notifications appear permanently in the history, if they appear from time to time, or if they shouldn't appear at all.
A more open control center
With iOS 11, the control center is no longer a hindrance. You can now customize its features; the unique and rigid design has become more flexible thanks to the different panels, which can be controlled via Force Touch. In the settings, you can choose the icons that you want to appear on the screen. It's been rumored that one day, Apple will finally allow app developers to have a panel that appears in the control center. This would allow them to create mini-apps to use when the phone is locked, which would be handy for Smart Home apps or assistants developed by third parties.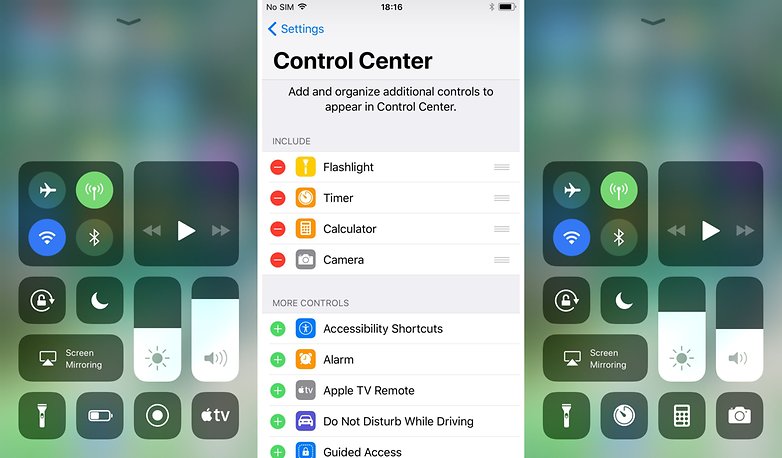 A file explorer… is available!
Apple has also opened its OS for file browsing, and wants to offer an external file browsing system with Files App. We aren't talking about navigating in the iPhone's local file system. It's more about moving your files from the iPhone to the cloud and vice versa. A comprehensive search and categorization make it much easier to locate your documents on all your devices, using iCloud or other cloud service providers. Could it even be possible to integrate Google Drive?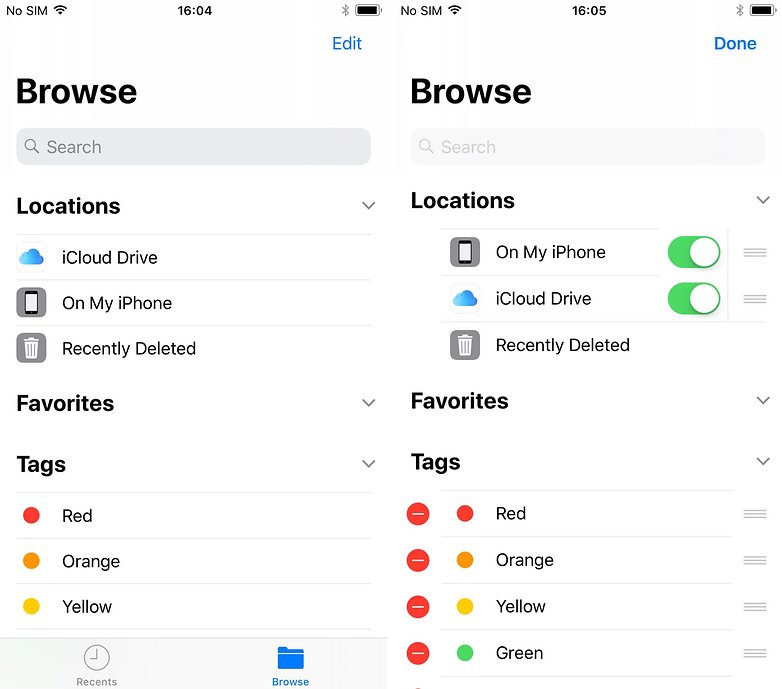 Other iOS 11 novelties
Many blogs and specialist magazines have listed the iOS 11 features that were presented during the WWDC keynote, but for the time being, they haven't been tested yet. These features are to improve the multitasking capabilities of the iPad and the use of the stylus on the iPad Pro. AirPlay 2 will be available on Multi-Room systems. Siri is evolving its capabilities, and can translate requests from English to French, Chinese, German, Italian or Spanish, and other new Siri features will arrive later:
Siri doesn't stop testing and improving its artificial intelligence through each device connected to iCloud, and uses the data collected on all Apple devices. If you research Iceland on your PC by typing "Re", autocorrect will automatically offer you Reykjavik, as Forbes explains.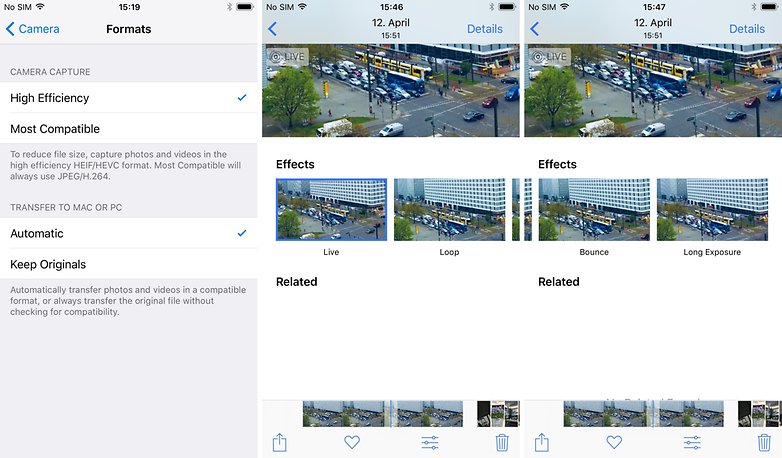 Photos and videos will be compressed in new formats. To replace JPEG, Apple will use HEIF, and HEVC for videos. Both will halve the file size, without compromising on quality. If you copy your files from your iPhone, during the transfer, they'll automatically convert to a format that can be recognized by the destination device. However, you still have the option of disabling this compression mode and real-time conversion. We'll have to look at the effectiveness of these new formats in more detail soon.
First verdict
Having done these first quick tests of iOS 11, we begin to see what Apple is aiming to do: optimize ease of use, and obviously to position itself above the rest. However, the notifications system remains inferior to Android Nougat's, even despite the clear improvements from iOS 10. And the control center is also inferior to Nougat's fast settings. For a while now, these settings could be configured to the user's preferences, not to mention the fact that they are open to other suppliers.
I prefer Android to iOS.
What do you think?
I do however like the change to HEIF and HEVC. Apple's striking force could have Android and Windows adopt these two formats rather quickly. If they consolidate worldwide, this could reduce data consumption on mobile, and if that doesn't have any effect, at least these formats will improve image quality.
Thank you for your visit on this page We tested the new iOS 11 features