Randall Margraves asked for 'five minutes alone' with sexual abuser
Nassar already sentenced to up to 175 years in jail at separate hearing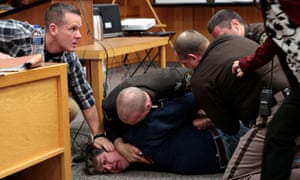 The sentence hearing of Larry Nassar, the former USA gymnastics team physician who sexually abused female athletes in his care, was interrupted in dramatic fashion on Friday when one of the women's fathers moved to assault the doctor.
The father of three of Nassar's victims, Randall Margrave, attempted to attack the 54-year-old doctor in the Michigan courtroom where women have been giving testimony about the abuse they suffered under his supposed care.
Two of Margraves's daughters had given evidence – their sister is also said to have been abused under Nassar's care – on Friday morning, when Margraves asked Judge Janice Cunningham for "five minutes" alone in a room with the former doctor.
When the judge declined, Margraves shook his head at Nassar and voiced a profanity. The judge warned Margraves about his language, and then he lunged at the doctor.
He was quickly tackled by bailiffs. Nassar was subsequently led out the room, while crying was heard in the courtroom. Assistant attorney general Angela Povilaitis urged families to "use your words" and told them that violence "is not helping your children".
"This is letting him have this power over us," she said. "We cannot behave like this. I understand this is a remarkable situation. But you cannot do this. This is not helping your children. This is not helping your community. This is not helping us."
Nassar had already been sentenced to up to 175 years in jail at a separate hearing last week, and to 60 years for possession of child abuse images in 2017. This week's hearing focuses on Nassar's conduct at the Twistars gymnastics club in Michigan.
More than 30 women have given evidence so far, and more than 150 testified at his previous hearing. On Thursday one of Nassar's attorneys, Shannon Smith, cast doubt on the number of athletes her client is said to have abused. Judge Cunningham opened Friday's session by describing Smith's comments as "unfortunate".
Thanks for your visiting on this page Father of Larry Nassar victims attempts to attack disgraced doctor at hearing | Sport, We hope this post can be a good reference for you and provide useful information for you :-).
This article is sourced from: Here