The second Android update for the Huawei Mate 9 has been available since the beginning of January. With it comes the arrival of controls for third party music player apps on the lockscreen, plus gamers will be pleased about the display's improved touch sensitivity. In recent news, Huawei is now testing Android O builds for the Mate 9.
Android O tests for Huawei Mate 9 have started
Even though it's only been a few weeks since Google announced the release of the first Android O Developer Preview, Huawei is already testing Android O builds for its flagship devices. In particular, internal testing for the Mate 9 has revealed that Huawei is already developing an EMUI update so it can benefit from what Android O has to offer in terms of features and optimization. These internal testing builds were first spotted by XDA Developers, though there aren't any details on how their source managed to get this information. This is the first image of what looks to be the Huawei Android O test build.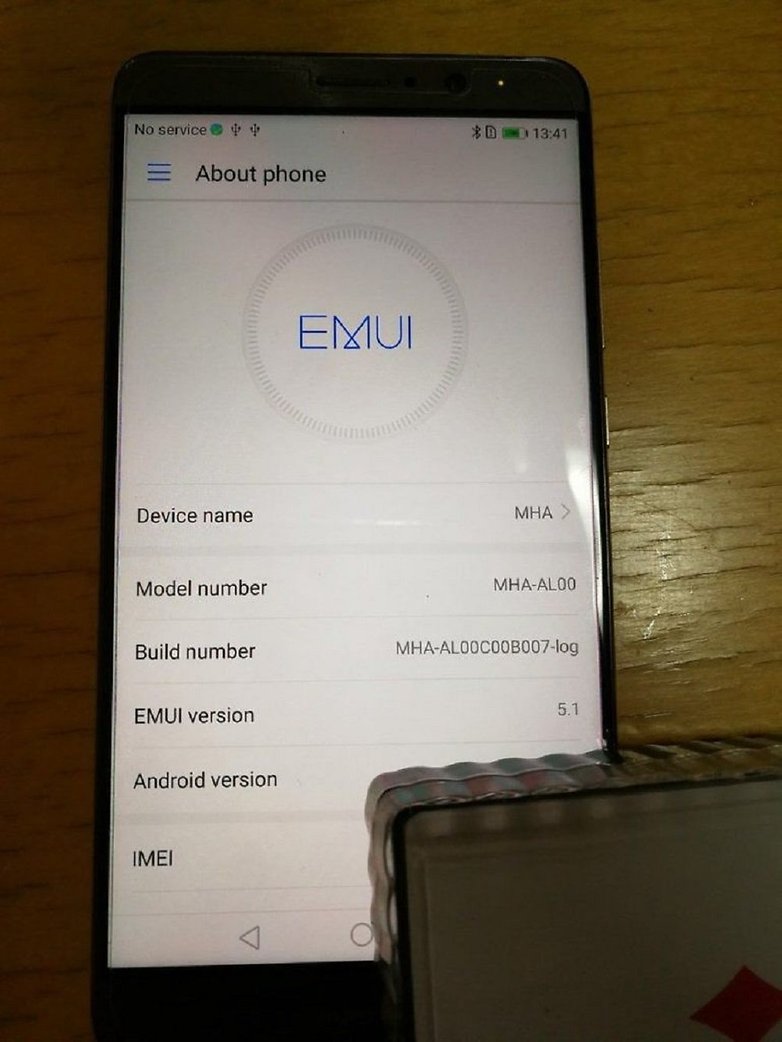 As you can see, the build number is MHA-AL00C00B007-log. MHA indicates that this is the Huawei Mate 9, while AL00 indicates it's a Chinese device. C00B007 is the current software version, but this does not match any of the software builds that are currently available. Finally, the "-log" suffix indicates that this build is an internal testing build. 
Here the Chinese company is aiming to provide its customers with updates ahead of its competitors. Hopefully, Huawei will be able to push Android O to the Mate 9 soon after Google releases the final version.
Huge OTA update for Huawei Mate 9
A new software update is being pushed out to all Huawei Mate 9 devices, arriving with the build number MHA-L29C185B172 and weighing in at 511 MB. The update is available as an OTA and is bringing along with it several performance and stability-related improvements.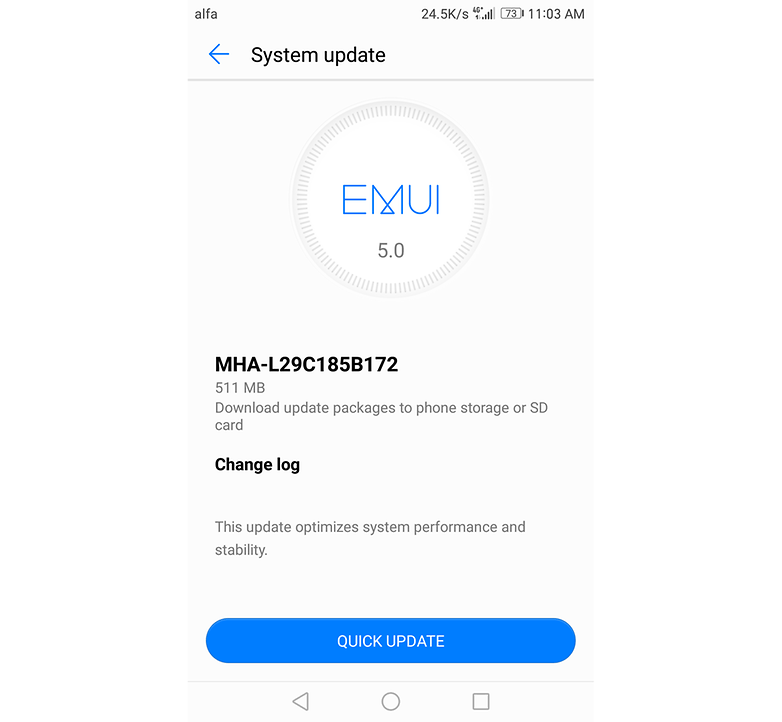 Aside from these, the update also includes improved touchscreen responsiveness and battery life. To check to see if the update is available for you to install manually, go to Settings > About device > System updates.
Improved touchscreen responsiveness should lead to better gaming
What do you think?
Second Android update for the Huawei Mate 9 in January 2017
Huawei has been delivering the first update to the Mate 9 for about a month now, which consists of the December 2016 security patches and device-specific improvements. Here is the information from the change log:
Fixed an issue where touch sensitivity is poor and your device is slow when you play some games, improving your gaming experience.
Other optimizations include:
Decreased power consumption for longer usage
Improves the control of third-party music players on lock screen
Improved device security with Google security patches
Whether battery life was indeed optimized or the gaming experience improved will have to be seen during daily usage. Let us know in the comments if you notice anything.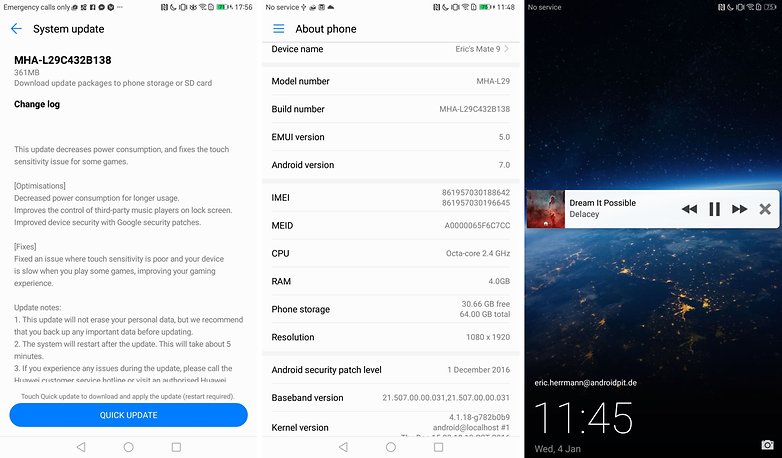 First Android update for the Huawei Mate 9 in November 2016
Previously, in November 2016, the first update that Huawei brought to the Mate 9 allows you to choose whether you see icons, numbers or nothing at all in the notification bar. Previously only numbers were available, so you couldn't actually know which notifications you'd received unless you manually opened the notifications panel.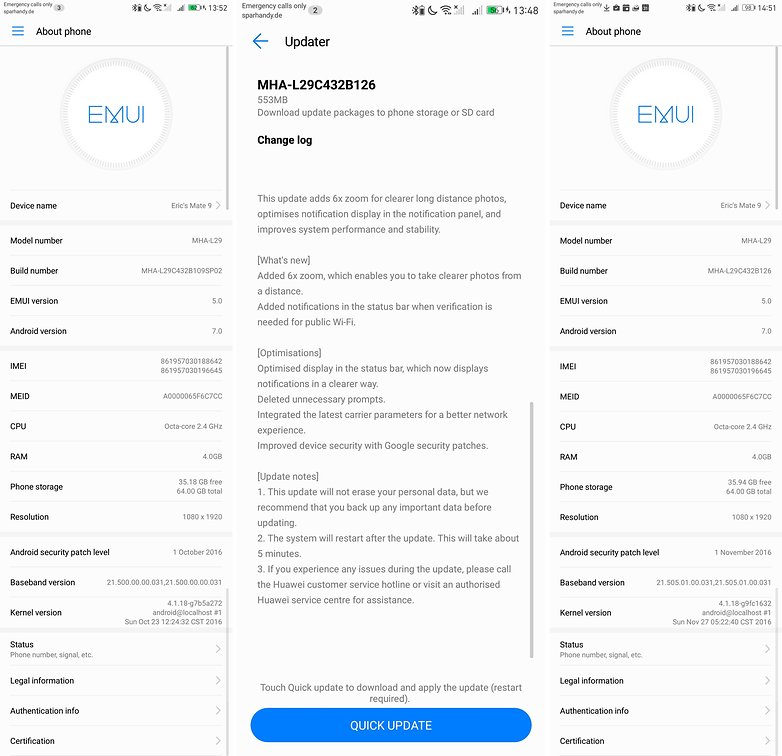 Another new detail from November was that you can now see the zoom level in your viewfinder, with a new maximum level of 6.0x. Lastly, Android security gaps were closed thanks to a security patch.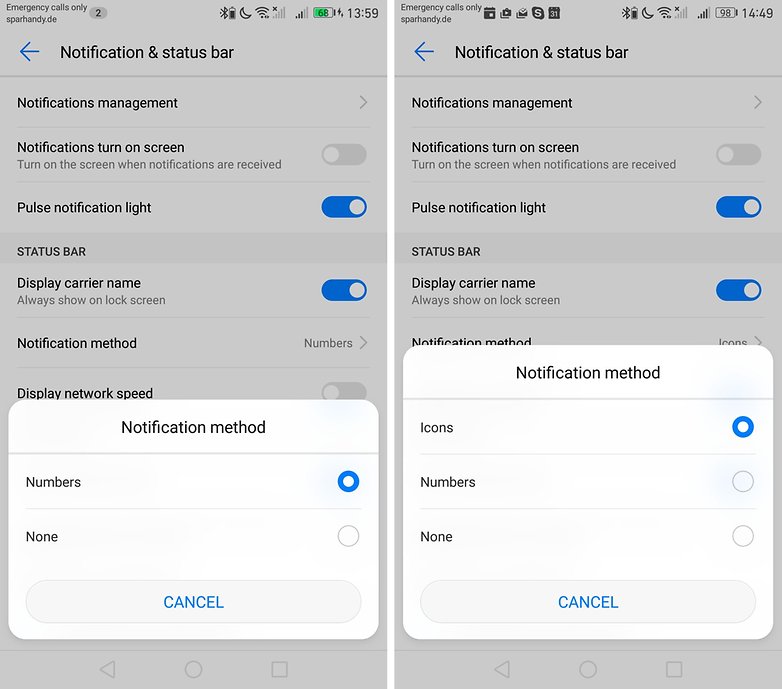 With Huawei's past updates, we've observed that the Mate 9 does not receive seamless updates as was supposed to be the case starting with Android 7.0 (the Google Pixel has a similar feature). Basically, this means that the Android updates would happen in the background and would be activated when restarting the phone. This way, you wouldn't have to waste any time updating your phone. The entire update installation on the Mate 9 takes around five minutes.
What do you think of the latest updates to your Huawei Mate 9? Did you notice improvements in battery life?
Thank you for your visit on this page Huawei Mate 9 Android update: Android O testing has begun