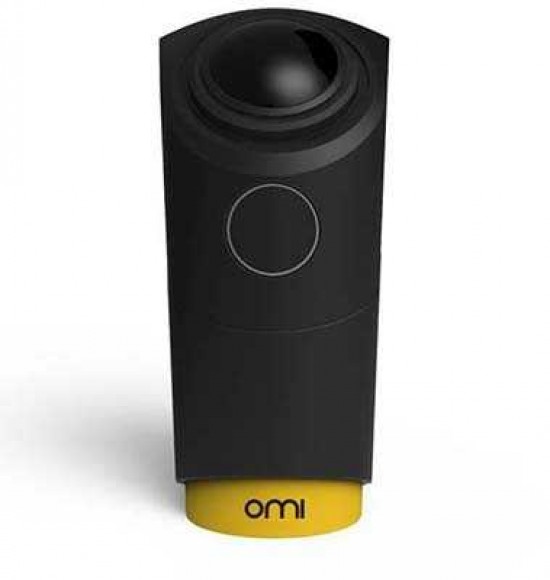 OmiCam is a wearable camera with unprecedented image stabilization technology, 15-hour battery life and complete VR compatibility for long-duration sports.
The OmiCam is available for purchase directly on the OmiCam website for $299 (USD).
Sightour Inc. Press Release

Sightour Inc. Introduces OmiCam, with Patented Image Stabilization and VR Capabilities For The Wearable Camera Space
Wearable Optics Company Creates New Visual Experience with the Launch of a VR-Integrated Action Camera for Long-Duration Sports
San Francisco, California – February 14, 2018 – Sightour Inc., and optics technology company, today announced the launch of their Optical Motion Intelligence (OMI) camera, a wearable camera with unprecedented image stabilization technology, 15-hour battery life and complete VR compatibility for long-duration sports. The camera leverages a 240° Fisheye lens that allows users to capture their field-of-sight without the need of headgear or other mounts. Connected via its own WiFi capabilities, the OmiCam can stream captured footage directly to a user's mobile device for instant viewing, editing, live streaming, and sharing from the Omi Studio app.
Lightweight, splash-resistant, and easily attachable to your backpack, jacket pocket, or standard mounting accessories, OmiCam is the answer to the technological conundrum that a majority of wearable camera manufacturers are facing; sacrificing battery life for modern computing power. Additionally, the company's proprietary optical motion intelligence leverages horizontal calibration to drastically improve image stabilization, eliminate camera bouncing, and secure proper orientation. Lastly, OmiCam, with its 240° Fisheye lens, is able to capitalize on the fast-growing emergence of VR technology with compatible video format and even live streaming VR capabilities normally reserved for 360° cameras with cumbersome mounting equipment.
For the longest time, the wearable camera market has only been catering to active people involved in shorter-duration activities. The action footage of skiers, skydivers, and surfers has certainly been incredibly popular, but for those that are avid hikers and bicyclists, the technology just doesn't suit their needs. The battery life is too short, the image is never stable, and, when mounted, it can be difficult to know if the camera was angled correctly or even recording at all. With all this in mind, OmiCam decided to completely rethink the wearable camera and focus on not only the needs of their users, but on creating a viewing experience that sets the device apart from the rest and positions the company as an industry leader.
Lifelog
To achieve the unprecedented 15-hour battery life, the camera has a Lifelog mode that is set up to automatically take 5 seconds of video every 3 minutes. This break in recording allows users to still capture their adventure, and extend the battery life past any other wearable on the market.
When not in Lifelog mode, the camera has a similar battery life of other wearable cameras; around 70-80 minutes.
Plenty of Storage
OmiCam uses a removable MicroSD so storage can be as large as the SD card you insert. Since the camera  instantly delivers footage to the Omi Studio app on your smartphone, storage space is never a concern.
AI Integration and Video Editing
The Omi Studio app, which is available for both iOS and Android devices, has a Smart-Pick feature that uses AI software to generate a 1-minute highlight video of the top collected footage. While in the app, users can also view, edit, share and live stream VR-compatible footage to social networks that can instantly be viewed on all major VR headsets.
Specs
Sensor:                                12MP
Angle of lens:                      240° Fisheye /45° Forward Capture
Output:                                 MP4 and JPEG
Resolution:                          Panoramic Photo: 4096×2048 Panoramic Video: 4K 30fps (3840×2160)
2.5K 30fps (2560×1440)
FHD 30fps (1920×1080)
Dimensions (mm/in):          1.81" (W) x 0.8" (D) x 3.68" (H)
Weight (gr/oz):                    3.95oz
Battery:                               1350 mAh
Battery life:                         70-80 min (Continuous 4K Video)
15hrs (Lifelog)
Storage:                             Micro-SD (Class 10 Recommended)
Microphone:                       Mono
Software Functions:           Camera Preview
360 Video Generating
360 Video Editing
360 Video Play
Watch Mode:                      360° Video/VR Goggles
App:                                    iOS (8.0 or later) Android (5.0 or later)
Software:                            Windows & Mac (For Video Editing)
Pricing and Availability
The OmiCam is available for purchase directly on the OmiCam website for $299 (USD).
About OmiCam: Sightour Inc,  the company behind OmiCam is a wearable camera and technology company based in Taipei, Taiwan. Founded in 2014, the company is dedicated to improving the video experience of wearable cameras for long-duration activities through the use of image stabilization and VR capabilities. More information can be found at: www.omicam.com
Your Comments
Thank you for your interest to visit this page OmiCam​ Wearable Camera Offers Image Stabilization and Virtual Reality. I hope this review can be an additional reference for you.
The content sourced from: http://feedproxy.google.com/~r/photographyblog/~3/ylPFT5c3YHA/omicam_wearable_camera_offers_image_stabilization_and_virtual_reality