Shortly after the final whistle blew, Yeovil Town's manager stood in the middle of a suddenly near deserted pitch and positively glowed with pride in his club. As Jamie Sherwood outlined the reasons for optimism about the future, a hazy north east sun suddenly seemed a little brighter.
A couple of minutes earlier and a few yards away, Melanie Copeland, Sherwood's Sunderland counterpart, had also stopped to reflect. She, too, was rightly proud of her team but spoke of "uncertainty," about things "being up in the air". There were potential "disappointments" and "clouds" blemishing the horizon.
Considering Yeovil had just finished bottom of the Women's Super League first division table, ending a season in which they have scored only two goals and collected just two points with yet another defeat and Sunderland had risen to seventh, something did not quite add up.
This puzzling equation can be balanced by learning that Yeovil have already convinced the Football Association to grant them a place in WSL1 next season when an expanded, revamped, top tier turns fully professional but Sunderland's future remains unclear.
While Yeovil are entirely self sustaining – unusually they receive no financial help from the men's team they share a name with – Sunderland have suffered horribly from their parent club's decision to effectively start divorce proceedings against them last summer.
Copeland's squad suddenly found themselves both excluded from Sunderland AFC's magnificently appointed Academy of Light training ground and relocated from their previous County Durham base to play at Mariners Park, the home of non-league South Shields. Practice sessions took place at facilities shared with Northumbria University in Newcastle and sometimes involved sub-standard, dangerously icy, pitches.
Sunderland AFC declined to support their application for WSL1 membership in the first round of bidding for places in the revamped league but four positions in the proposed new 14-team division remain open, with the identity of the successful bids scheduled to be announced by the FA next Sunday.
After joining forces with Northumbria University and deciding against a complete name change, Sunderland have applied to stay in WSL1 but could yet end up as one of five clubs granted slots in WSL2. Or, alternatively, be demoted two divisions.
Considering Sunderland produced a nucleus of the current England team – Lucy Bronze, Steph Houghton, Jill Scott, Jordan Nobbs, Demi Stokes, Carly Telford and Beth Mead all began their careers with them – the current uncertainty is the cause of considerable anger and upset.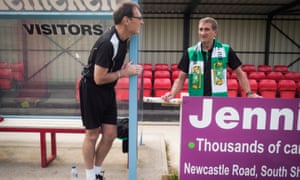 Copeland and her players face a nervous week waiting for Sunday's announcement and no one is happy. "It's up in the air," said Copeland, a cousin of Alan Shearer. "I don't know what's happening." Sherwood is suitably shocked. "It's a terrible shame," he said. "Sunderland has been such an important part of the women's game and produced so many England players."
Behind his delight at a crowd-funding initiative helping raise sufficient cash to ensure Yeovil can turn from part time to fully professional next season, he, too, harbours a few potential reservations over the FA's WSL rebrand.
Apart from the obvious concerns about his club's ability to compete more equally with highly-resourced Chelsea, Manchester City and Arsenal and their glittering array of leading internationals, this was Sherwood's last game as manager.
FA rules dictate that a 39-year-old who will become Yeovil's football director is no longer permitted to juggle his day job – a full time teaching post at a Cardiff college – with coaching. Several players may also depart, with some offloaded and others opting for the security of longer-term careers ahead of a high risk, quite possibly, lower-paid football odyssey.
"It's very sad about Jamie," said Nigel House, surely Yeovil's most loyal supporter and one of a small handful who had made the trek north. "But there's been 80 applicants for his job."
Sherwood broke the nine hour bus trip north with a rare overnight stay on Saturday. On learning House was embarking on the 760-mile round trip from his Weymouth home, he invited him to dinner in the team hotel.
Afterwards House, who never misses a game, was presented with a commemorative shirt signed by every player. "Nigel epitomises everything this club's about," said Sherwood. "He's a special person."
House could not stop smiling after Annie Heatherson scored Yeovil's second goal of the season here. Although Keira Ramshaw subsequently headed an equaliser following a cross from the impressive Mollie Lambert and Bridget Galloway subsequently volleyed a superb Sunderland winner, the visitors always competed, with goalkeeper Megan Walsh excelling.
Technical proficiency was presumably higher as Manchester City beat Everton 3-0 to finish second behind Chelsea and beat Arsenal to the WSL's remaining Champions League place but there was nowhere House would have rather been. There is no chance of his switching allegiance to the newly-formed Manchester United side hoping to join WSL2 under the management of former England defender and current assistant coach Casey Stoney.
"This club's like a family," beamed House. "And I've never seen a side like Yeovil. These girls never, ever, give up fighting. They've always got each other's backs. They're a real team."
Thanks for your visiting on this page Sunderland women face uncertain future thanks to divorce process | Louise Taylor | Football, We hope this post can be a good reference for you and provide useful information for you :-).
This article is sourced from: Here